The Charlton County School District is hiring part time food service workers. Please see the link below for more information:
https://5il.co/1owqw

Update on the timeline for construction plans for a new Charlton County High School can be found at the link below:
https://5il.co/1nuy1

Parents, there have been numerous false reports about shootings in schools in surrounding counties such as Glynn and Camden. Our Sheriff's Office has confirmed that those reports are not true, but are in fact a hoax. Additionally, there have been NO threats or reports of any threats to any Charlton County school. School and district administrators will continue to communicate with law enforcement and will take precautionary measures as needed to ensure the continued safety of our students and staff.

This is a reminder to all parents that Friday, November 18 is a regular school day for Charlton County Schools, it will NOT be an early release day. Happy Thanksgiving to all students and their families!

The Charlton County School District is seeking to fill the position of Technology Specialist. Further information can be found at the link below:
https://5il.co/1j4om

Charlton County Schools will be closed Thursday September 29 and Friday September 30 due to impending weather from Hurricane Ian. Schools will be open and on regular schedule on Wednesday Sept. 28, however all extracurricular and after school activities on Wednesday are cancelled. Schools will reopen Monday October 3. I pray that you and your loved ones stay safe during the storm.

Attention attendees of tonight's game: After each Indian score there will be a sequence of flashing lights which may affect individuals who are susceptible to photosensitive epilepsy or other photo-sensitivities. Each sequence will last approximately 10 seconds. Attendee discretion is advised.

Friday September 9 will be an early release day for students in the Charlton County School District. Please contact your child's school if you have questions about specific release times on that day.

The Charlton County Health Department will provide immunizations from 2 p.m. - 7 p.m. Tuesday, August 2 for any students needing updated shots. If your child needs updated immunizations, go by the Health Department tomorrow between 2 p.m. and 7 p.m.

Please see the link below for information about the possibility of free or discounted internet for many of our Charlton County families.
https://5il.co/1cgi5

Parents, please take a couple of moments and complete the annual Federal Programs Needs Assessment Survey for the Charlton County School District at the link below:
https://www.surveymonkey.com/r/CFZSB5Q
Family-School Partnership District Level Plan Meeting Date: Wednesday June 8, 2022 Time: 9:00am Location: Charlton County Board of Education 37 Touchdown Lane Folkston, GA 31537 We are seeking input on the following topics: Family-School Partnership District Level Plan Family-School Partnership District Level Funds Building School Staff Capacity


Election day is tomorrow, May 24. Information about ESPLOST and its previous and future benefits to Charlton County Schools and our students can be found at the links below:
https://5il.co/19s0e
https://5il.co/1axgf

The Charlton County School District is announcing job vacancies for 2 school secretary positions. Information can be found at the link below:
https://5il.co/19ykp

The 2021 Special Education Annual report was released by the Georgia Department of Education recently. We are pleased to report that our Special Education students met 23 of the 25 performance targets on which they were measured for 2021. Congratulations to our students and staff! The report can be found at the link below:
https://5il.co/19xsb​

A history of projects in the Charlton County School District that were completed with ESPLOST funds can be found at the link below. Early voting began May 2, and election day is May 24. History of ESPLOST projects:
https://5il.co/19s0e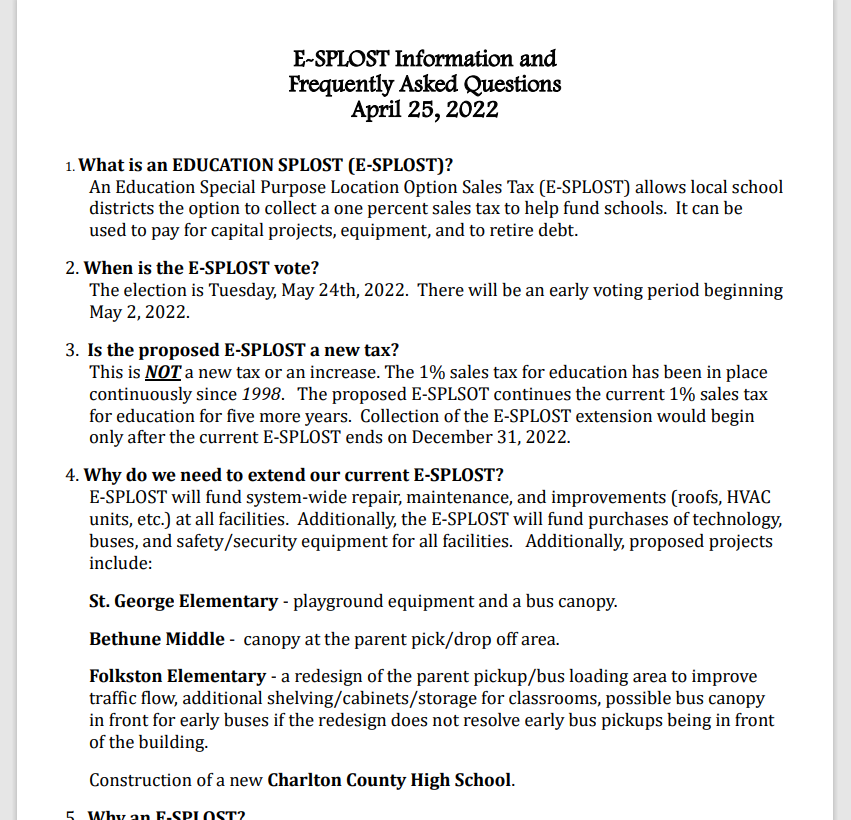 Information for parents and citizens about ESPLOST can be found at the link below:
https://5il.co/17qur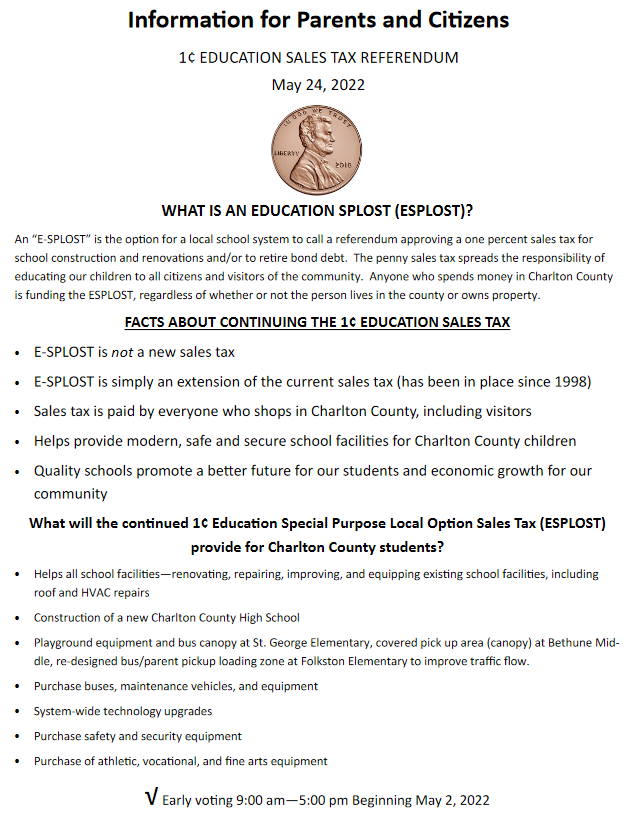 The annual report for FERST Readers of Charlton County can be found at the link below:
https://5il.co/15oec