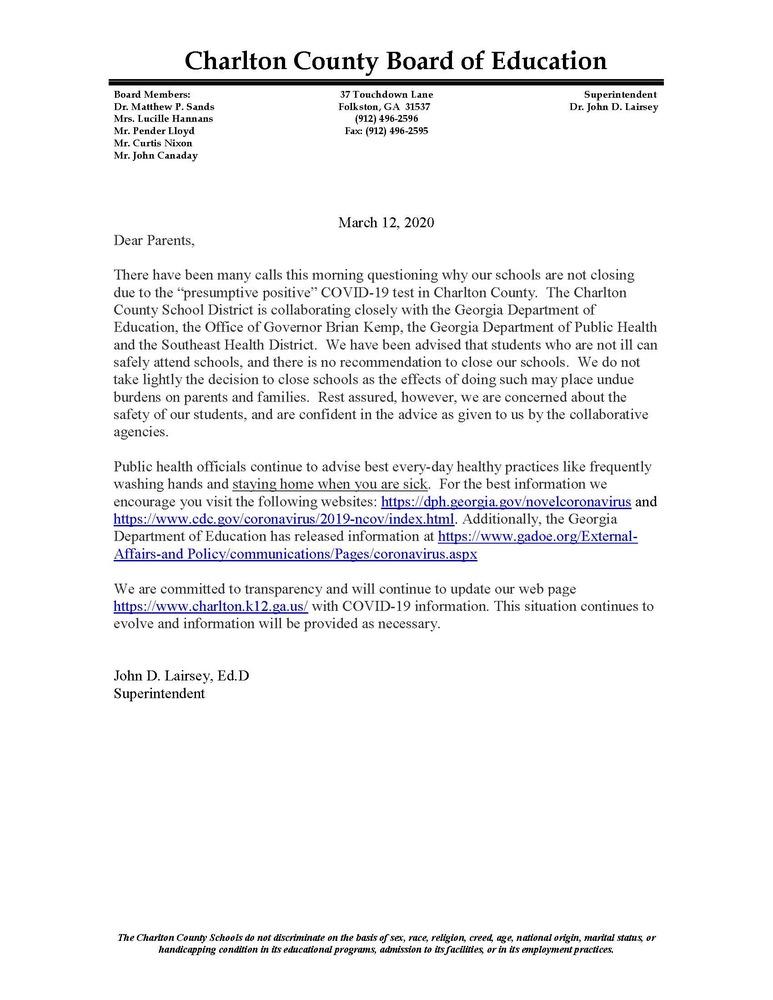 COVID-19 Update for Charlton Schools
John Lairsey
Thursday, March 12, 2020
March 12, 2020
Dear Parents,
There have been many calls this morning questioning why our schools are not closing due to the "presumptive positive" COVID-19 test in Charlton County. The Charlton County School District is collaborating closely with the Georgia Department of Education, the Office of Governor Brian Kemp, the Georgia Department of Public Health and the Southeast Health District. We have been advised that students who are not ill can safely attend schools, and there is no recommendation to close our schools. We do not take lightly the decision to close schools as the effects of doing such may place undue burdens on parents and families. Rest assured, however, we are concerned about the safety of our students, and are confident in the advice as given to us by the collaborative agencies.
Public health officials continue to advise best every-day healthy practices like frequently washing hands and staying home when you are sick. For the best information we encourage you visit the following websites: https://dph.georgia.gov/novelcoronavirus and https://www.cdc.gov/coronavirus/2019-ncov/index.html. Additionally, the Georgia Department of Education has released information at https://www.gadoe.org/External-Affairs-and Policy/communications/Pages/coronavirus.aspx
We are committed to transparency and will continue to update our web page https://www.charlton.k12.ga.us/ with COVID-19 information. This situation continues to evolve and information will be provided as necessary.
John D. Lairsey, Ed.D
Superintendent