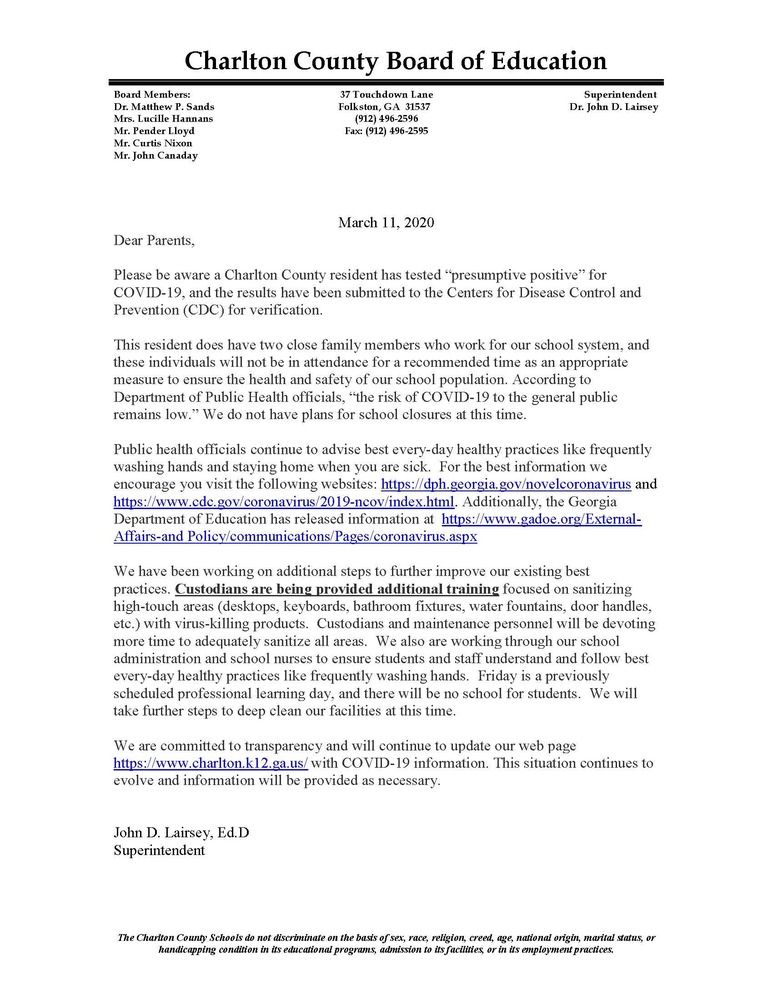 Superintendent releases statement to parents
John Lairsey
Wednesday, March 11, 2020
March 11, 2020
Dear Parents, Please be aware a Charlton County resident has tested "presumptive positive" for COVID-19, and the results have been submitted to the Centers for Disease Control and Prevention (CDC) for verification.
This resident does have two close family members who work for our school system, and these individuals will not be in attendance for a recommended time as an appropriate measure to ensure the health and safety of our school population. According to Department of Public Health officials, "the risk of COVID-19 to the general public remains low." We do not have plans for school closures at this time.
Public health officials continue to advise best every-day healthy practices like frequently washing hands and staying home when you are sick. For the best information we encourage you visit the following websites: https://dph.georgia.gov/novelcoronavirus and https://www.cdc.gov/coronavirus/2019-ncov/index.html. Additionally, the Georgia Department of Education has released information at https://www.gadoe.org/External-Affairs-and Policy/communications/Pages/coronavirus.aspx We have been working on additional steps to further improve our existing best practices. Custodians are being provided additional training focused on sanitizing high-touch areas (desktops, keyboards, bathroom fixtures, water fountains, door handles, etc.) with virus-killing products. Custodians and maintenance personnel will be devoting more time to adequately sanitize all areas. We also are working through our school administration and school nurses to ensure students and staff understand and follow best every-day healthy practices like frequently washing hands. Friday is a previously scheduled professional learning day, and there will be no school for students. We will take further steps to deep clean our facilities at this time.
We are committed to transparency and will continue to update our web page https://www.charlton.k12.ga.us/ with COVID-19 information. This situation continues to evolve and information will be provided as necessary.
John D. Lairsey, Ed.D
Superintendent