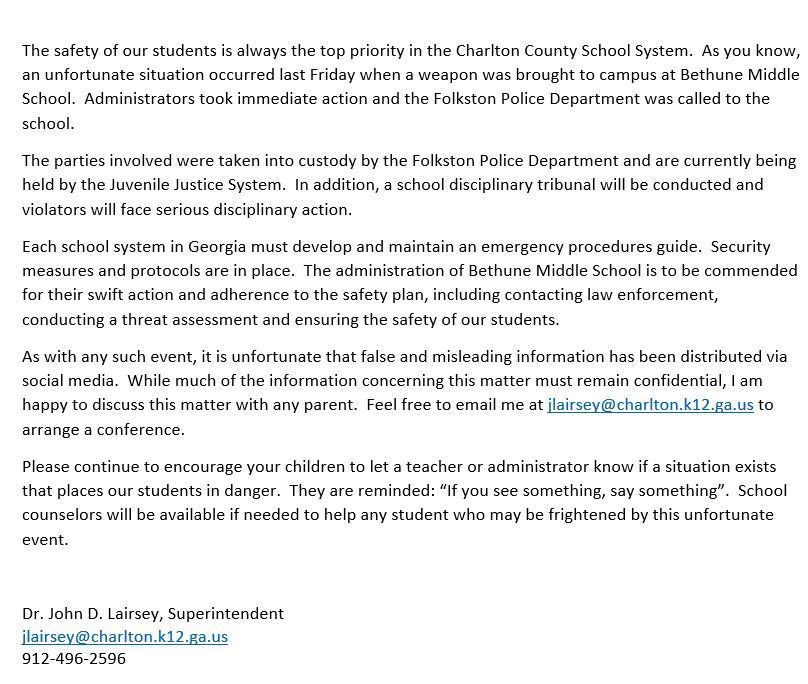 Superintendent releases statement to parents
John Lairsey
Sunday, February 09, 2020
The safety of our students is always the top priority in the Charlton County School System. As you know, an unfortunate situation occurred last Friday when a weapon was brought to campus at Bethune Middle School. Administrators took immediate action and the Folkston Police Department was called to the school.
The parties involved were taken into custody by the Folkston Police Department and are currently being held by the Juvenile Justice System. In addition, a school disciplinary tribunal will be conducted and violators will face serious disciplinary action.
Each school system in Georgia must develop and maintain an emergency procedures guide. Security measures and protocols are in place. The administration of Bethune Middle School is to be commended for their swift action and adherence to the safety plan, including contacting law enforcement, conducting a threat assessment and ensuring the safety of our students.
As with any such event, it is unfortunate that false and misleading information has been distributed via social media. While much of the information concerning this matter must remain confidential, I am happy to discuss this matter with any parent. Feel free to email me at jlairsey@charlton.k12.ga.us to arrange a conference.
Please continue to encourage your children to let a teacher or administrator know if a situation exists that places our students in danger. They are reminded: "If you see something, say something". School counselors will be available if needed to help any student who may be frightened by this unfortunate event.
Dr. John D. Lairsey, Superintendent
912-496-2596