CCHS Athletics this week: SB today at Maiden Field against Irwin County 5:30pm, SB at Echols County Thursday 5:30pm, SB Saturday at Maiden Field against Brooks County at 11am and 2pm. Football Clinch County Friday at Champ Bailey Field 7:30pm.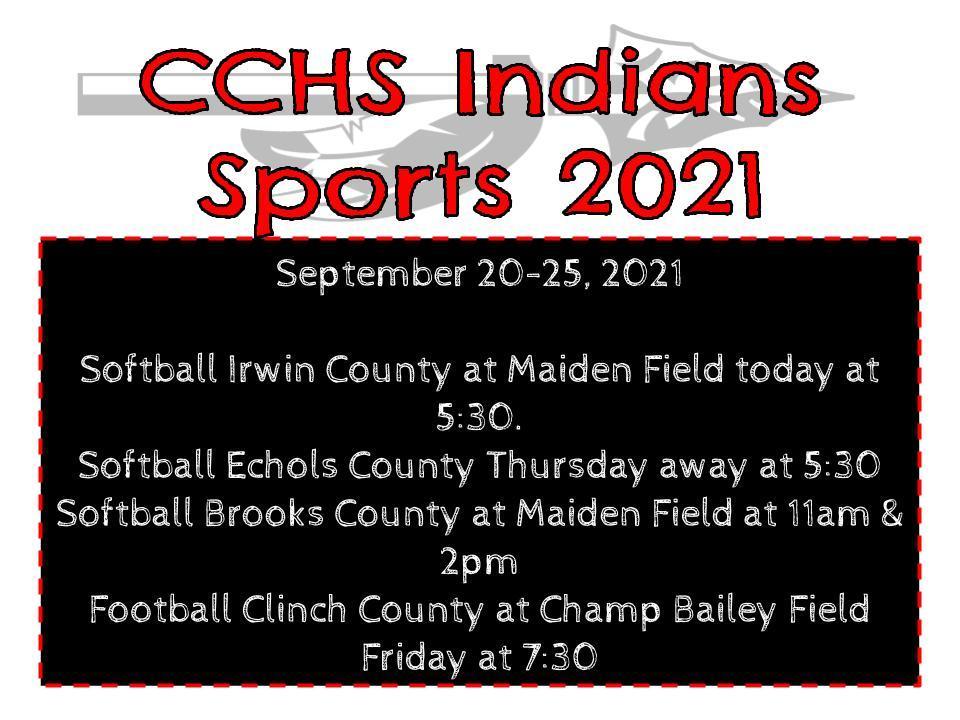 CCHS had a very special visitor last week. We introduced Glen Hughes to our students on our Google Meet morning announcements. We wanted the students to listen to Coach Hughes and hear about his dedication to the CCHS Indians. Wow over 400 consecutive games in a 32 year period. Thank you!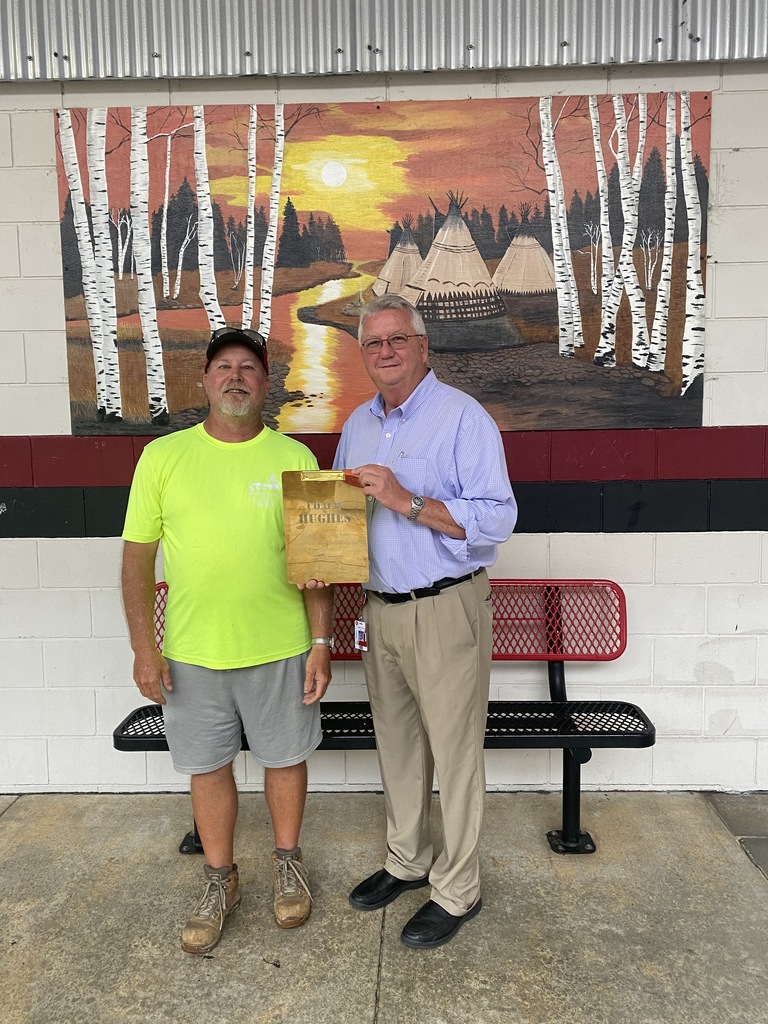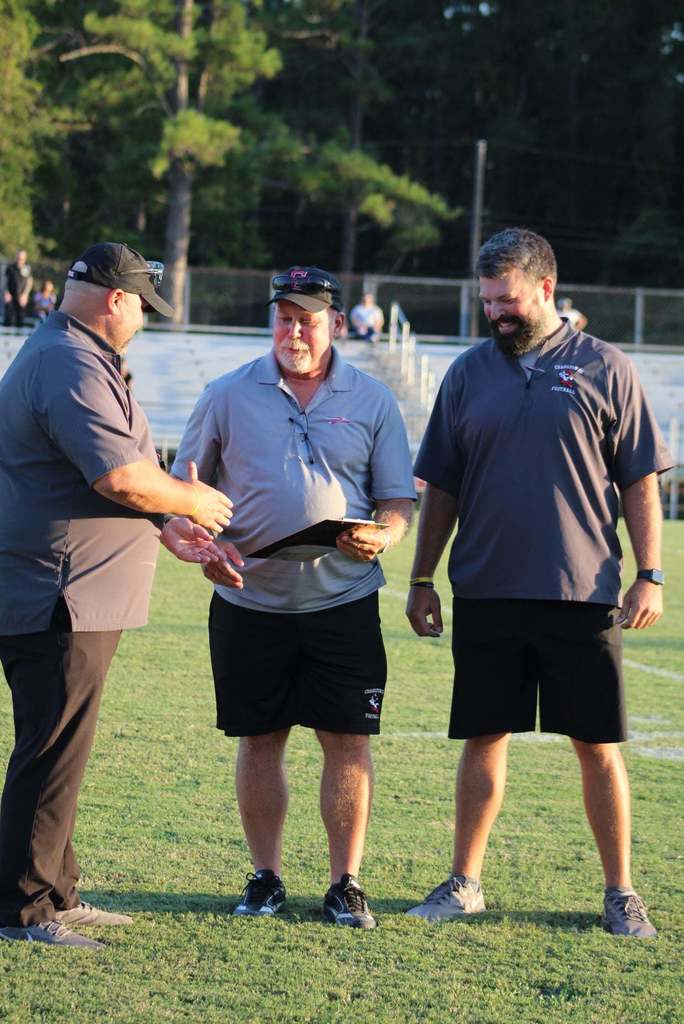 Mrs. Knowles, the CNA students, and the Student Ambassadors, were able to put together 80 goodie baskets for local health care providers! The baskets were distributed to Folkston Pharmacy, Walgreens, Bennett's Pharmacy, Dr. Malik's office, Amelia Care, McKinney Medical, Charlton County Health Dept., Vista Lab, Folkston Park, Roberson's Funeral Home, 911 dispatch, Charlton EMS, the fire station, Advance Rehab, the ICE facility nurses station, Life care (Hilliard), Hilliard Pharmacy, St. Vincent's Clinic (Hilliard), and the hospital nurses stations in Camden, Brunswick, and Waycross! WOW! This would have been impossible without all of the generous donations received from our school and local community!! Thank you all so much! Please click the following link to see pictures from the collection and disbursement of baskets.
https://docs.google.com/presentation/d/e/2PACX-1vS6bBkUKjNs0Pr7NSf1GBnuIVI2Z0eoMuiHKdgKj1Q8rND0U_R_Y6hscPzDCqp6AoTaqV-AvC7uXA3I/pub?start=true&loop=true&delayms=5000

Hog Show Saturday, September 18th, at 11:00 AM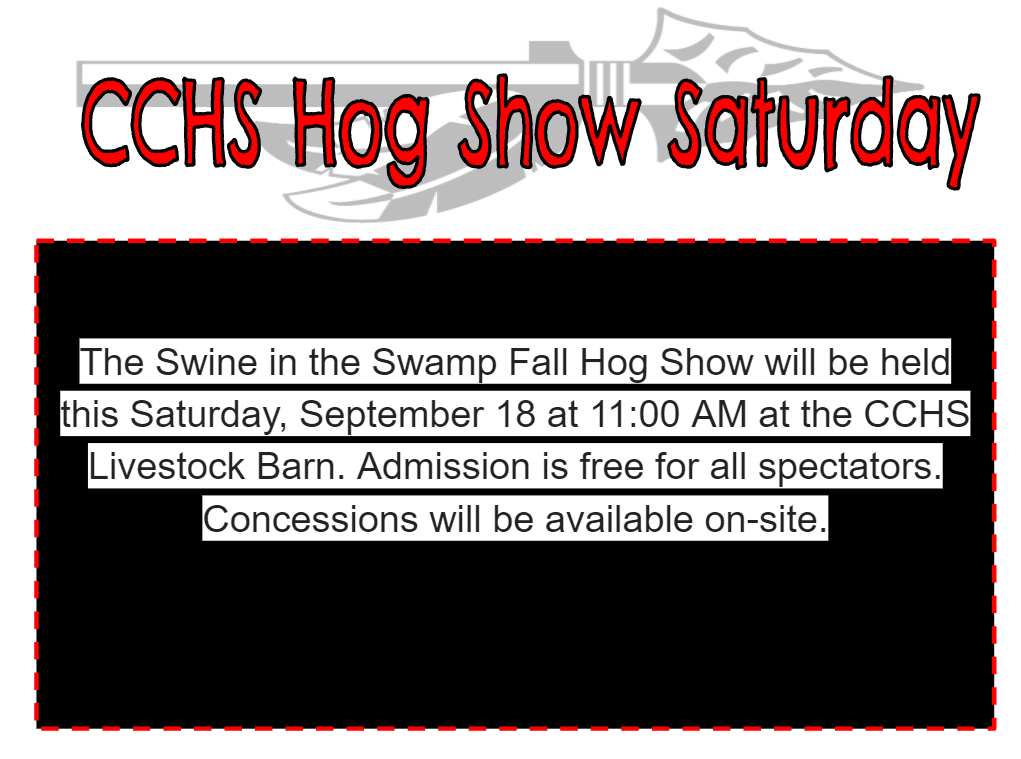 CCHS Athletics this week: SB Turner County today at Maiden Field at 5:30. SB Thursday in Lanier County at 5:30. Football Tift Area Friday at Champ Bailey Field at 7:30. Also there is a Swine in the Swamp Hog Show at 11am Saturday at the Charlton County High School Ag Barn.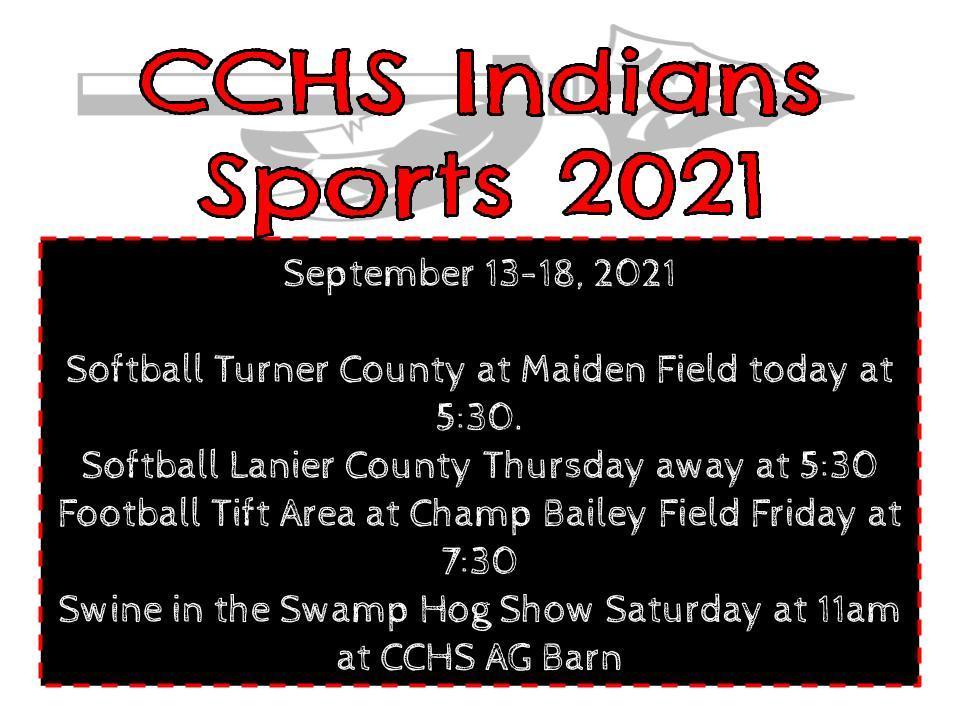 Please click the following link to see a pictures of our 2021 student representatives (class officers, honor court, Miss Shilofohaw, homecoming court, and senior superlatives)!
https://5il.co/yu8g

PBIS NEWS: Please click the link to see pictures and read about our August students of the month! You will also find a picture and information about our teacher of the month!!
https://5il.co/yty1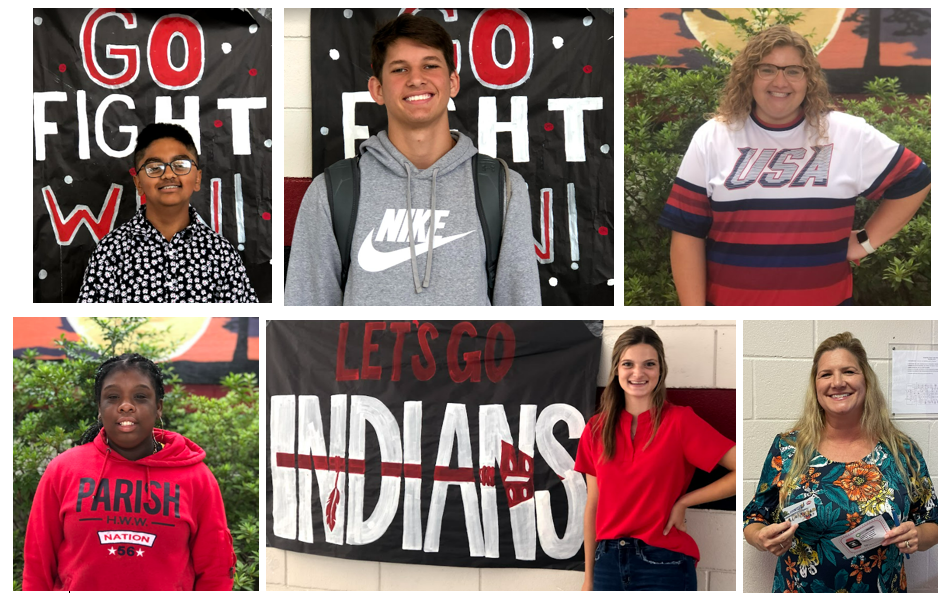 No softball today, 9/8/2021, it has been cancelled.

All CCHS students will receive progress reports on Wednesday, September 8th. Reading Inventory assessment data will be included on the back of the report. Parents and guardians, please review this information carefully and sign the progress report. Students should return the original copy to their first block teacher no later than Friday, September, 10th. Additional information about interpreting RI assessment data was shared in a previous post.

Please click the link below to access information regarding Lexile levels and interpreting your child's Reading Inventory assessment data. This information will be located on the back of your child's progress report, which will be sent home on Wednesday, September 8th. Please call Ms. Lee at CCHS if you have any questions.
https://5il.co/ykqn

The CCHS CNA students and the Student Ambassadors need your help! They are collecting donations of pre-packaged goods to create and distribute care baskets for the health care facilities in our area. Donations can be dropped off in the attendance office at CCHS through Tuesday, September 14th. You can also contact Mrs. Knowles to have your donations picked up. Requested donations include pre-packaged treats and other items to make front line workers smile. Thank you for supporting such a great cause!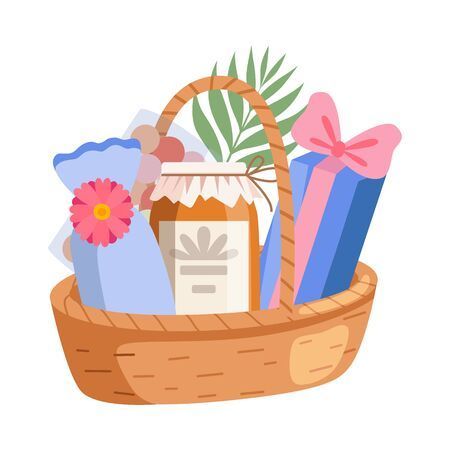 CCHS Athletics this week: SB in Appling County at 5pm today. SB Islands High Wednesday at Maiden Field at 5:30. SB in Brooks County on Thursday at 5:30. Football Friday at Mcintosh Academy at 7:30pm.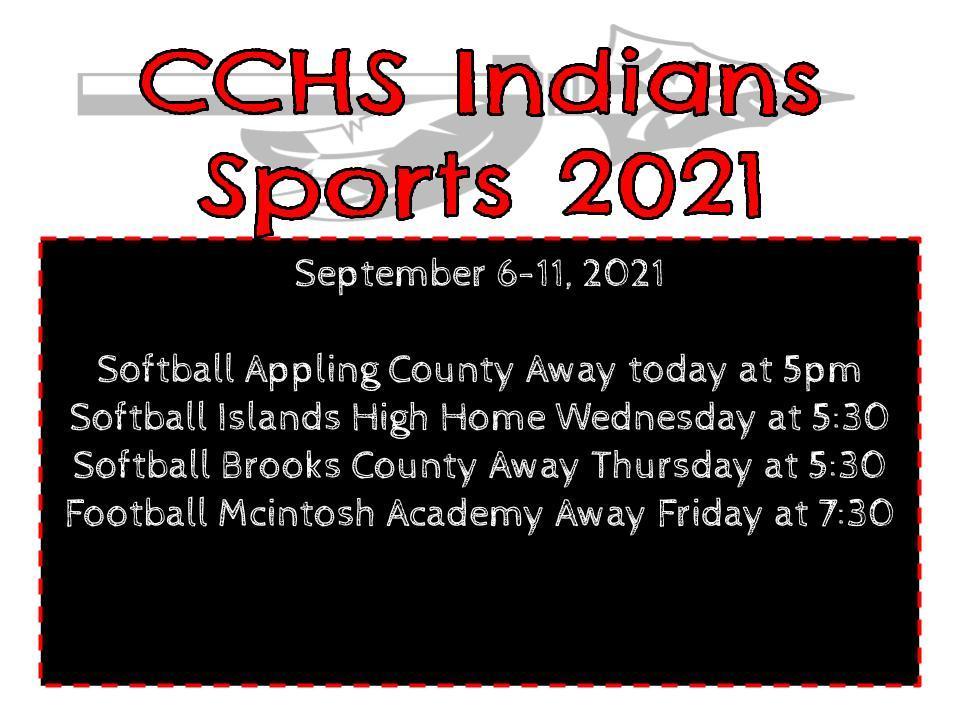 Mrs. Willis will take pictures of Mrs. Shilofohaw, class officers, homecoming representatives, and senior superlative winners on Wednesday, September 8th during first block. Please come dressed accordingly on this day.

CCHS Athletics this week: Softball Atkinson County at Maiden Field today at 5:30 and Softball Lanier County at Maiden Field Thursday at 5:30. Football Long County Friday at Champ Bailey Field at 7:30.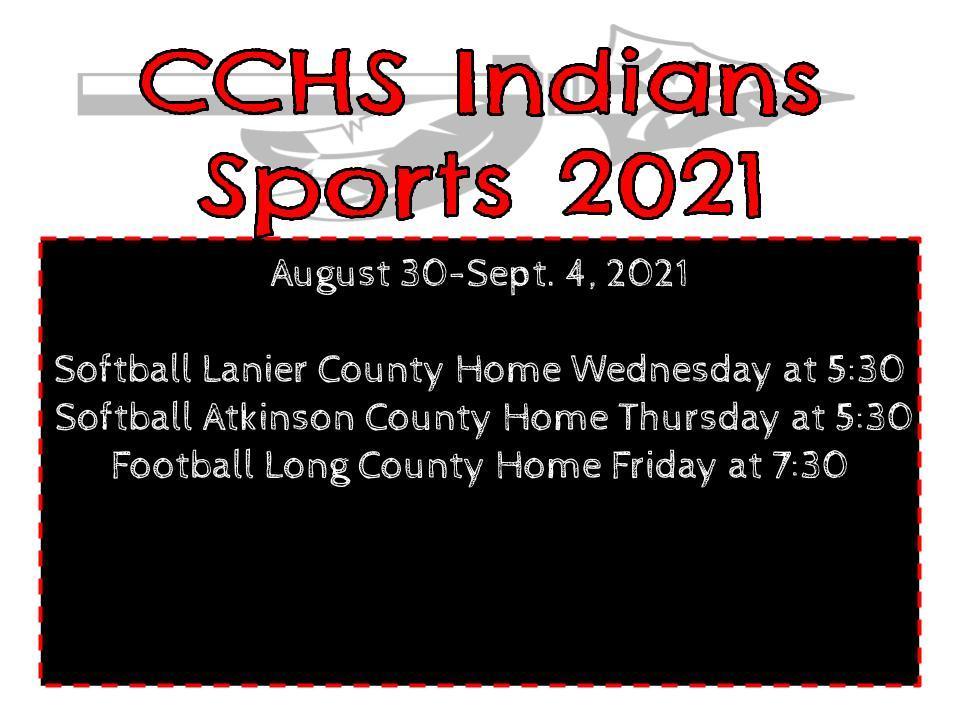 There are only two dates left to purchase season tickets for the 2021 football season. Tickets may be purchased in the CCHS media center on the following dates: Tuesday, August 31st: 6:00 p.m. - 7:30 p.m. Wednesday, September 1st: 6:00 p.m. - 8:00 p.m.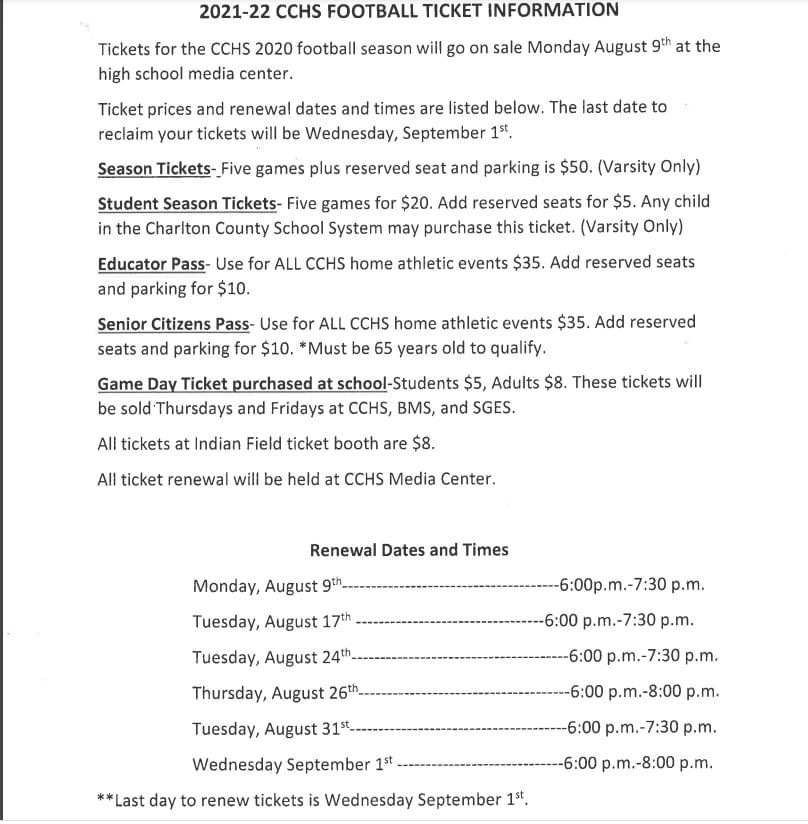 Congratulations to the Charlton County School System and CCHS 2021 Teacher of the Year Mrs. Katy Ruth Huling This is well deserved recognition for an excellent educator. We are lucky to have her at CCHS.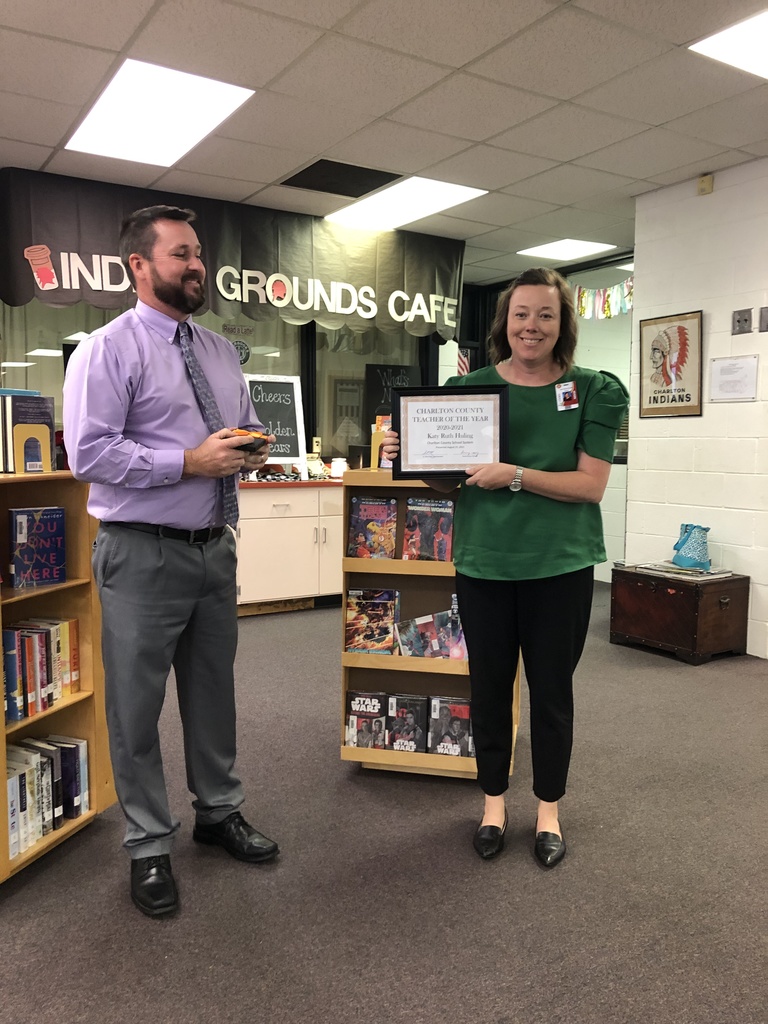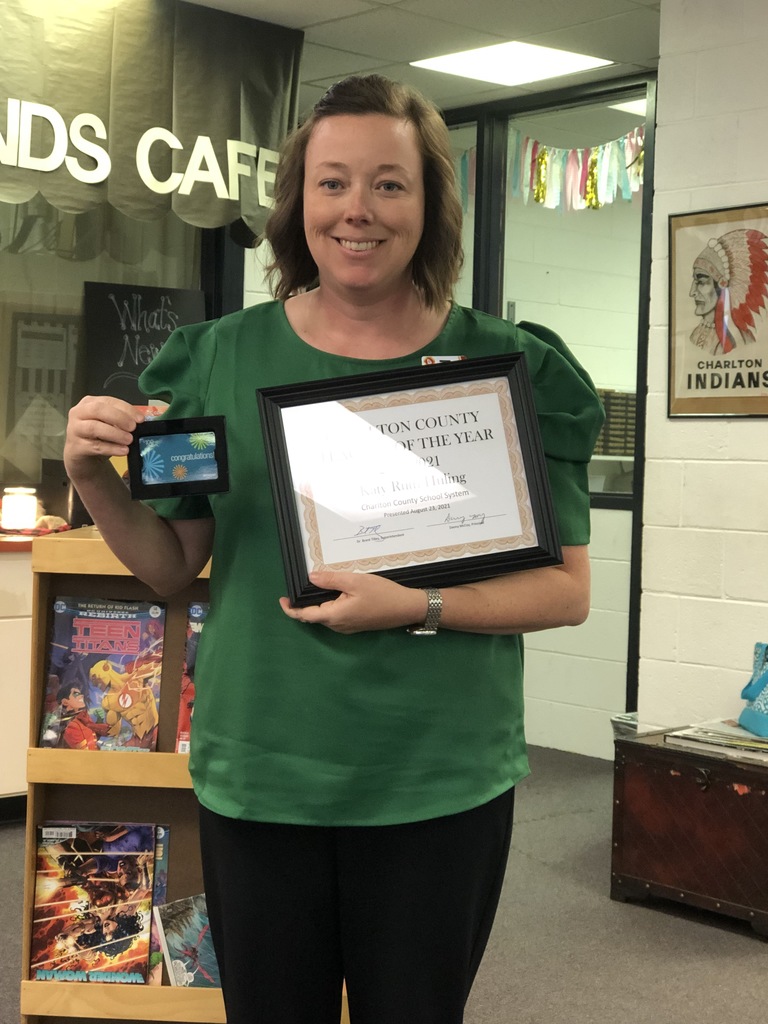 CCHS athletics this week: Softball Lanier County at Maidan Field Tuesday at 5:30 and Atkinson County at Maidan Field Thursday at 5:30. Football Friday in Brantley County at 7:30.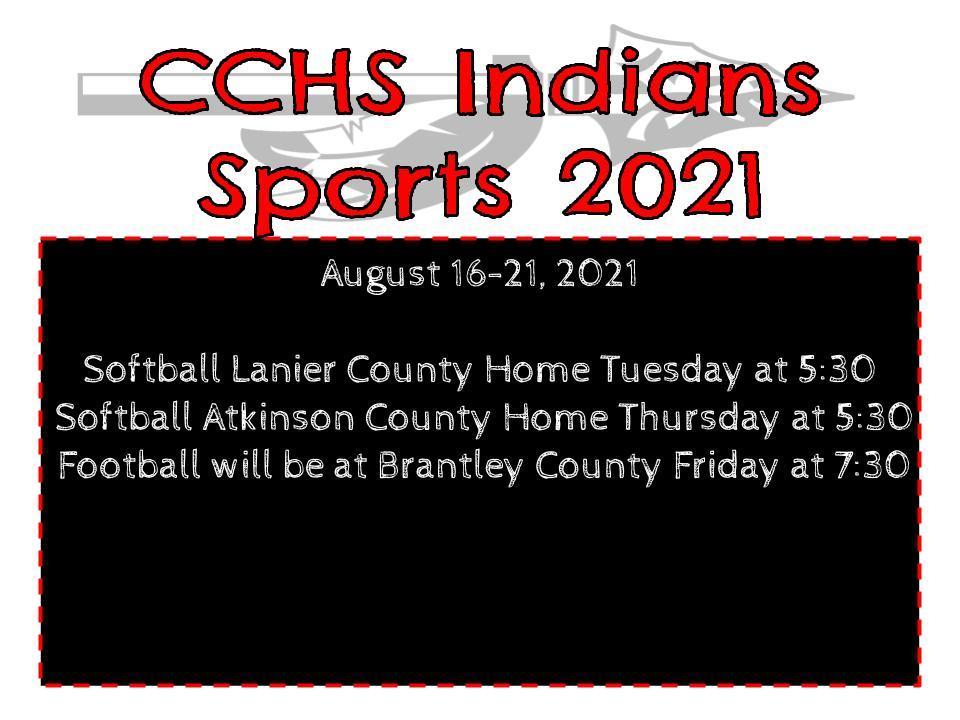 Cady Studios will be here for the Senior Road Shoot this Thursday, August 12. This day will only be for those seniors desiring a senior package. The sitting fee is $30. Cady Studios will be back on another day to take the pictures for seniors who only want their picture in the yearbook. Please go to the Cady Studios website to schedule an appointment for Thursday, August 12.

CCHS athletics at home this week: Softball Brooks County at Maidan Field Tuesday at 5:30 Football Islands at Champ Bailey Field Friday at 7:30