This a reminder that Friday, November 18, 2022 is a full day for Charlton County students. We will dismiss at 3:13 PM. Have a great and safe Thanksgiving Holiday week.

Update on the young man from Seminole County last night. I know many of our fans were praying for him. He was discharged last night in stable condition. The latest we know is that he is doing fine with minor injuries. We will continue to keep his family in our thoughts and prayers.

Coach Sumpter is making a difference at CCHS. Charlton County FBLA traveled to Perry, Georgia for the Fall Leadership Conference. Seven students competed in five competitive events, two tests and monopoly. Results for those events have not been received yet (we were told around the week of Thanksgiving is when we can expect results). If the students place in any area they will automatically be invited to compete at the state level. We also received recognition for a 39% increase in paid Chapter membership for which the students received ribbons. The students did very well and really enjoyed themselves. I am really proud of them for stepping up to compete in areas that were out of their comfort zone. We are looking forward to attending future events.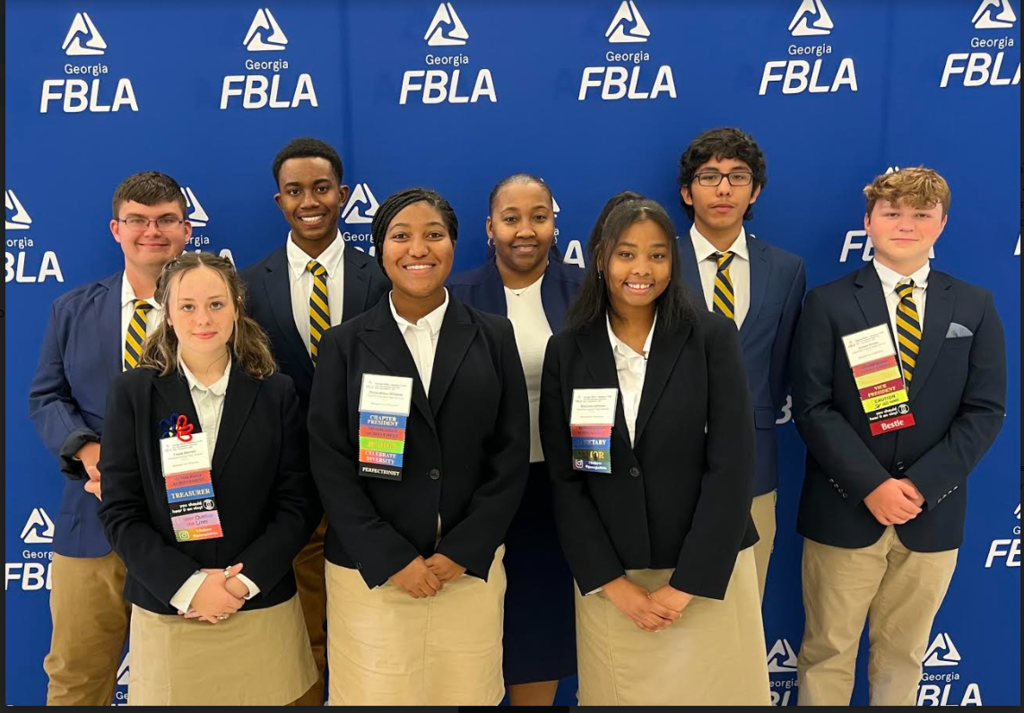 State Football Playoffs in Folkston Charlton County Indians vs Seminole County Indians Friday Night, November 11, 2022 at Champ Bailey Field 7:30. Only GHSA passes will be accepted. You must purchase all tickets on GoFan.
https://gofan.co/app/events/774027?schoolId=GA17963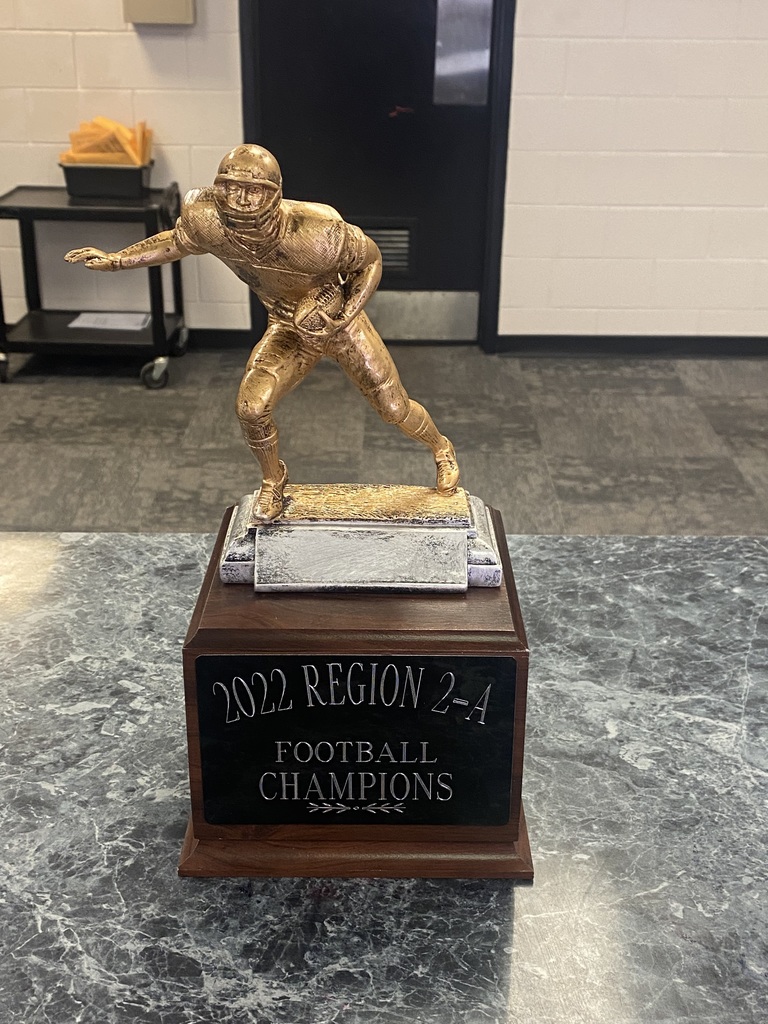 Attention Seniors- Herff Jones will be here Tuesday, November 1, 2022 at 7:45 AM for senior re-orders.

Congratulations to the Maidens players and coaches!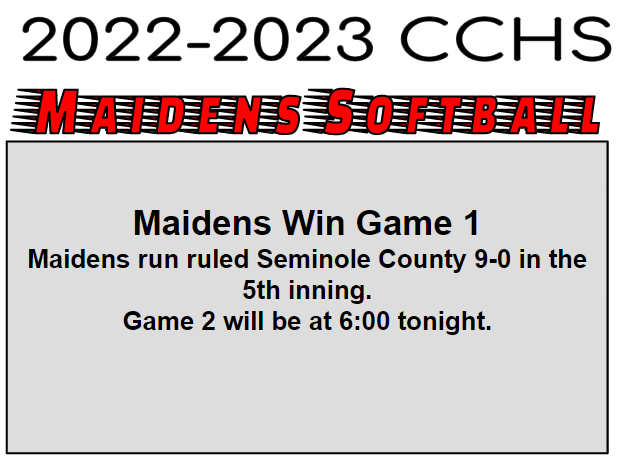 Congratulations to the CCHS One Act Play crew. Thank you to Mrs. Huling and Dr. Newvine. You can see the musical Friday, October 21st live at he OREC. Show starts at 7:00 and the doors open at 6:30. Adult tickets are $10 and student tickets are $3.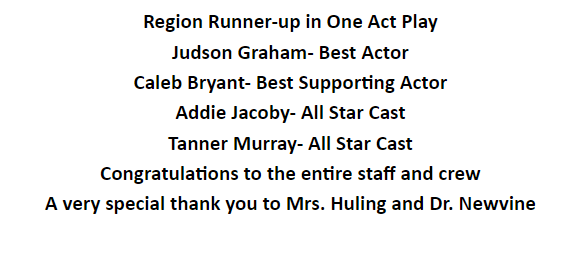 Maidens Softball Playoff Bracket- All games are at Emanuel County Institute in Twin City, GA This is a new playoff format. It will be a 4 team double elimination tournament to see who goes to Columbus.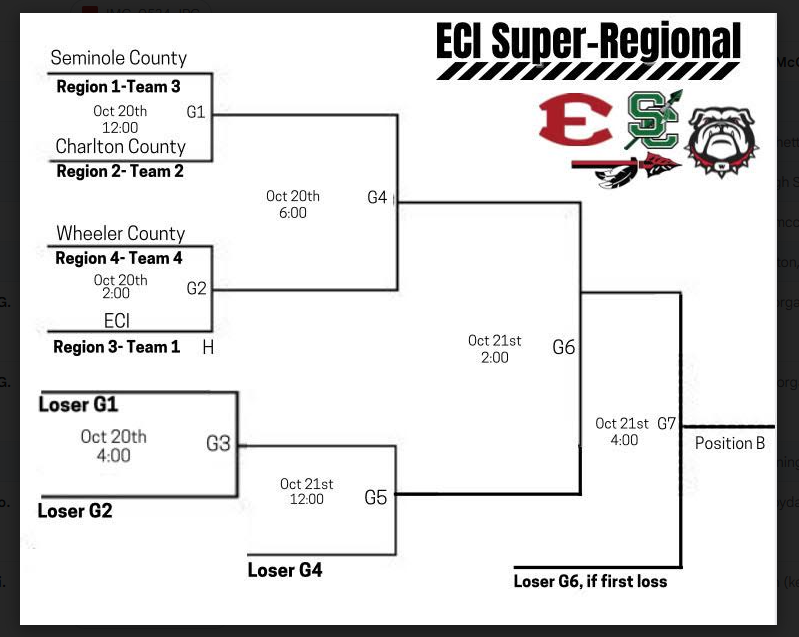 Correction: CCHS report cards go out on Thursday, October 13, 2022. Please sign them and return it to your first block teacher on Friday. Thanks

CCHS graduation rate continues to increase. Our graduation rate for 2022 was an all time high of 96.6%. Congratulations to all Charlton County teachers and the class of 2022. A big thank you to all of their teachers from Pre-K to 12th grade.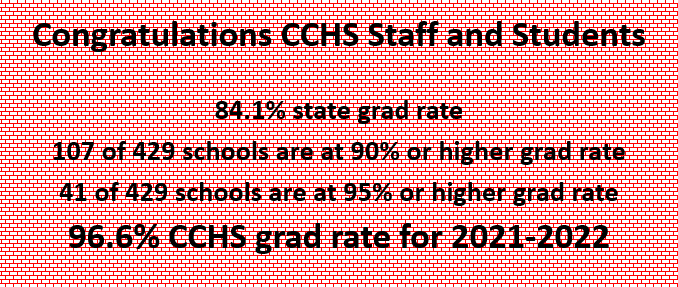 There is a senior meeting on Tuesday, Sept 27 at 9:45. This is for students only.

Attention seniors and senior parents: There will be an important senior meeting on Tuesday, September 27th at 9:45 in the Media Center. Please make arrangements to be there. Also, please be sure to check your student email regularly.

Progress reports go home Friday with students. Please sign and return them to CCHS on Monday.

Progress reports will go home this Friday, Sept. 10th. Parents/Guardians, please make sure to sign and have your student return it to their first block teacher.
Announcement for Athletic Events: No child under the age of 12 will be sold a ticket to a CCHS Athletic Event without the purchase of a ticket by an accompanying adult. Please plan accordingly! We want to provide the best possible experience for our student-athletes, parents and fans!

MEET THE TRIBE: Join us for Meet the Tribe tonight at Champ Bailey Field. The softball game begins at 5:00 at Maidens field, you can visit food trucks in the Champ Bailey field parking lot, and Football starts around 6:00. You will enjoy music from the Band of Pride during the football scrimmage and you can see your varsity cheerleaders leading the crowd!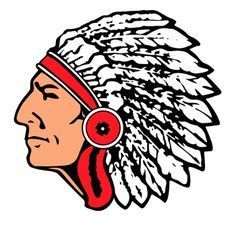 Please join us tonight at Champ Bailey Field for Meet the Tribe!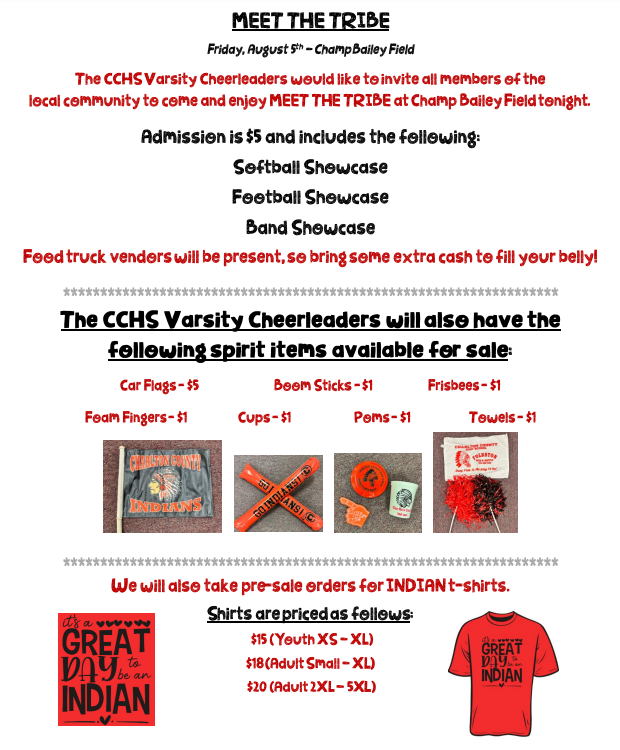 Lil' Miss Cheer Camp is next week and we are so excited! Please contact Meagan Lee or Lacey Phillips at CCHS if you have questions! Click the following link to access the flyer and registration form:
https://5il.co/1cnho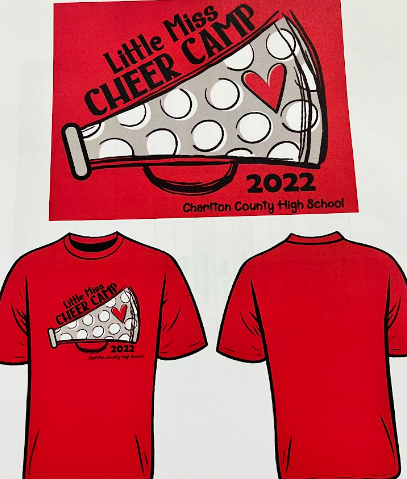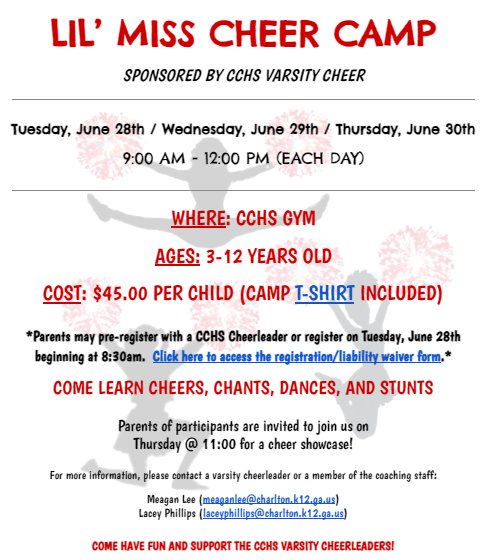 Congratulations to the CCHS Indian Baseball Team for another outstanding season. I know everyone wanted to win the state championship, but being the state runner up is quite an accomplishment. Coach Marchman continues to have an outstanding program here at Charlton. While we look forward to next season, make no mistake we will miss our senior class of 2022. Thank you Coach Marchman, Coach Graham, Coach Hellgren, and our players on your hard work this season.

Parents... Don't forget to sign your kiddos up for Lil' Miss Cheer Camp this summer. Please contact Meagan Lee or Lacey Phillips at CCHS if you have questions! Click the following link to access the flyer and registration form:
https://5il.co/18w5i